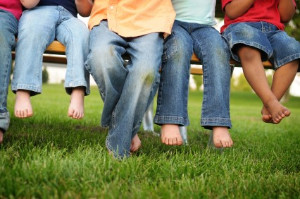 The tarsal navicular bone helps connect the ankle to other bones that are lower in the foot. This bone gets its nautical sounding name because it has a shape that is like a small boat. The navicular bone helps form and stabilize the arch and helps us walk efficiently. Kohler's Disease is a rare bone disorder in which the navicular bone experiences a loss of blood supply and density, causing the bone to weaken and be susceptible to compression from other bones in the foot. This can affect some children typically aged 3-7, and it most commonly occurs in boys. The symptoms a child may experience with Kohler's Disease include pain, tenderness, swelling, and redness in the middle of the foot. While this disorder may sound scary, the prognosis is usually good: Kohler's Disease generally corrects itself as the child matures. Until that time, the child may compensate for the discomfort they are feeling by walking on the outside of the affected foot. If you see your child walking like this or even limping, it is wise to take them to a podiatrist for an examination and diagnosis. If their findings indicate that your child has Kohler's Disease, the podiatrist can help treat the disorder and provide relief through techniques such as casting, anti-inflammatory medications, custom orthotics and special supportive footwear.
The health of a child's feet is vital to their overall well-being. If you have any questions regarding foot health, contact one of our podiatrists of New England Foot and Ankle. Our doctors can provide the care you need to keep you pain-free and on your feet.
Tips for Keeping Children's Feet Healthy
Make sure their shoes fit properly
Look for any signs of in-toeing or out-toeing
Check to see if they have Clubfoot (condition that affects your child's foot and ankle, twisting the heel and toes inward) which is one of the most common nonmajor birth defects.
Lightly cover your baby's feet (Tight covers may keep your baby from moving their feet freely, and could prevent normal development)
Allow your toddler to go shoeless (Shoes can be restricting for a young child's foot)
Cut toenails straight across to avoid ingrown toenails
Keep your child's foot clean and dry
Cover cuts and scrapes. Wash any scratches with soap and water and cover them with a bandage until they've healed.
If you have any questions, please feel free to contact one of our offices located in Chelmsford and Newburyport, MA . We offer the newest diagnostic and treatment technologies for all your foot care needs.
Read more about What to Do to Keep Your Child's Feet Healthy